Donations to the Geopark
The North West Highlands Geopark Limited is a social enterprise and a charity which re-invests profits to ensure ongoing development of geo-tourism projects, conservation and educational programmes. Our funding comes from donations, private sector sponsorship, European Program funding and earned income from tours and merchandise.
Please click the 'Donate' button below to be invited to donate via Paypal. If you'd like to purchase a car sticker or pin badge to show your support, head over to our online shop.
Registered Scottish Charity no. SC046510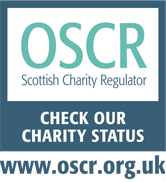 Registered in Scotland as a company limited by guarantee reg. no. SC422047